Cleaned the house top to bottom before the party. And then again afterwards in post-party guilt (this sounds like a good quality to me!!!).
Got in the bath about 2 minutes before the band arrived to set up. Had to have an awkward convo with the singer whilst in the bath, while the singer could see the outline of the bath through the broken bathroom wall.
Wore too much leopard print. Rather be mutton dressed up as lamb than mutton dressed up as mutton. Oh, too much leopard print is mutton?
Only ate 1 thing out the array of fabulous food made by a local catering company and her beautiful friend who is basically a local catering company in her own kitchen. Just one thing! And there were 8 options of fabulous things.
Drank champagne as though she drinks champagne all the time. Or as though she drinks alcohol at all. Wondered why she felt so drunk so early and after so little champagne.
Wore black leather harem pants and leopard print shoes and did a lot of MC Hammer impressions.
When told her outfit wasn't "ugly jumper" enough said things like "Well I can't help it if I make ugly things look hot!!!"
Didn't have one meaningful conversation with anyone (and by the way they were the funniest, craziest, ugliest jumper wearing bunch of beauties!!!!) , but was so impressed everyone seemed to be laughing (indulgently?) at her jokes that she thought she should be a stand up comic. Did some more MC Hammer and possibly Michel Jackson.
Surveyed the entire party to find out if they thought she was Nina or Billie from Offspring. 99% said Billie. The 1% perhaps sensed her desperation at wanting to be the more neurotic one, whilst honestly knowing she's not that intense.
Spilt most of the butterscotch schnapps on her harem pants while making everyone at the party have shots (even the guy on detox by promising him she wouldn't tell anyone).
Had 2 shots.
Did a forward flip over the balustrade in her kitchen whilst having a "jumping fences like farm girls" jump off. Nearly pulled it off except for the bit where she smashed her head on the bricks/floor/balustrade (insert hard object here as truth is unknown). Tried to pretend there was no injury, but couldn't hide the blood.
Created a "nurse off" in the bathroom while the guests argued about hospital/stitches/plastic surgery. Lamented the end of her modelling career. Agreed to bandaids. Returned a little sheepishly to party.
Danced with bandaids on her head to prove she would not be stopped by a head injury (she drank only water after this though which was wise, and appreciated the next day)
Went to bed with one of her nurse friends who kept doing concussion checks and asking confusing and seemingly random questions about what day of the week it was.
Slept like a lady with concussion.
And that my friends, is how you party like a boss!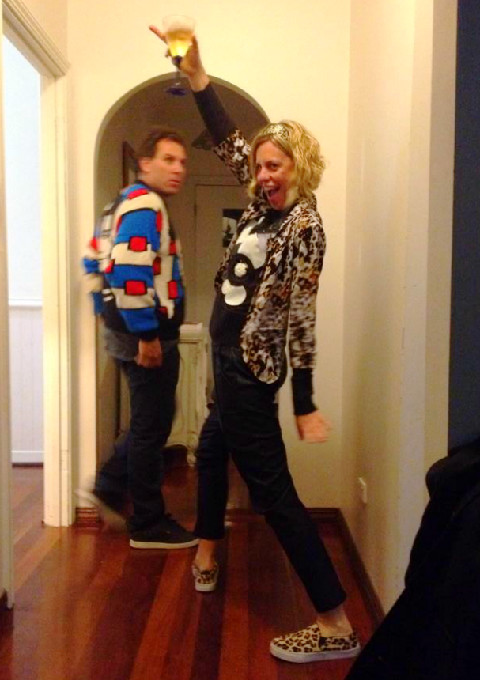 Now it's time to settle down and be a sensible lady. Can someone let her know?