I spent the day at a clearing sale with my Dad.
This is not 'stop press' kind of stuff, I know. But I have recently trawled through a friends blog, (after looking at it sporadically in the early days, my friend's new found regularity of blogging took me by surprise. I still haven't caught up on my reading!). I am guilty of having that forever guy cornered, so it was a small comment about her brother and farming heirs that caught my eye.
My father is a farmer (retired), my brother is not.
Recently my parents moved about 800kms to retire close to my children. I should probably say close to me, but who am I kidding!
 My small hobby-sized property had reignited my father's interest in agriculture, and he bought a similar size property. For practical reasons we have since got in to the habit of 'going halves' in machinery. He is also still in good enough shape to crutch my flock of sheep, very handy!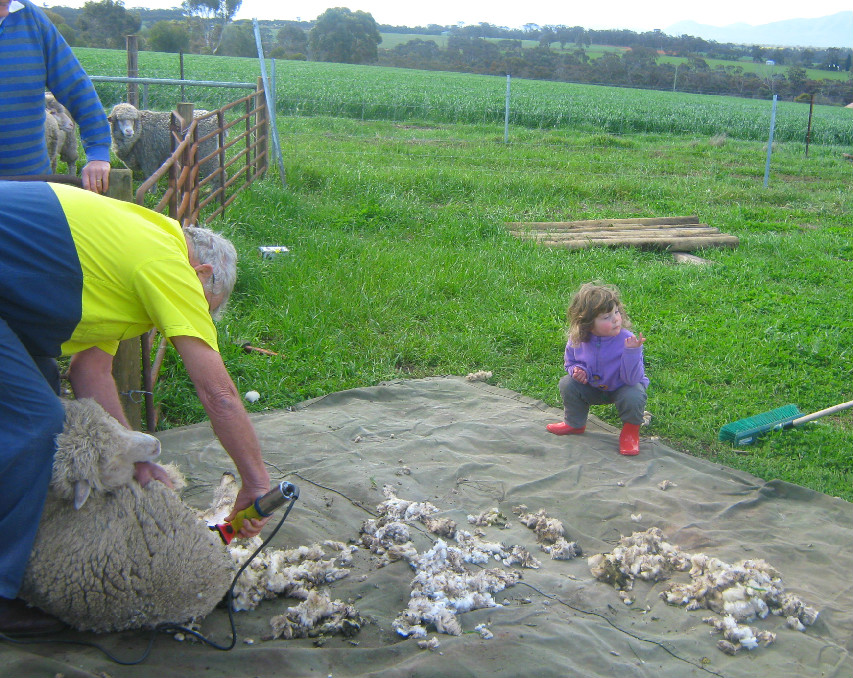 This has led to various outings together buying and transporting hay balers and the like. My mother is glad that my children give her an excuse to stay home. My dad got a bit peeved that I didn't take him with me to pick up a ram.
Basically we have a new found relationship of hanging out doing 'farmy' things, after a lifetime of not really hanging out at all. The other day, Dad and I were putting in strainer posts together. He asked me to grab the crowbar off the back of the ute. 'It weighs a tonne, be careful' and it did. He then proceeded to tell me that his father had made it from a Dodge crankshaft in 1924.
My 11 month old son was watching us from the pram, and he happens to be named after the crankshaft recycling grandfather. I then got to thinking that it must be hard for my Dad to have all this history to pass on, and being an old fashioned bloke he is now left with passing it on to me instead of his city-living son. And probably hopes he lives long enough to tell it to my son. I had this discourse silently with myself for the remainder of the morning, getting very sentimental about crowbars and recording living histories and the like. And philosophical about old men and feminism.
At smoko I mentioned to Dad that 'it is probably a conversation you envisaged having with your son'. To which he replied 'Christ, I have probably told him that story a hundred times.'
I was speaking to my brother later that day, and reiterated that Dad would probably like to have passed on various stories and skills to him rather than me, to which he replied 'Christ I've heard that story a hundred times, I've done my time.'
My husband thinks I should get more sleep, wear a hat when fencing in the sun and hopes we don't get the crowbar in the will.
Dad and I are going to another clearing sale next week, Mum is staying home with the kids.
This is a guest post that fits right in, by a long time friend of mine who lives far away. I love it….