I had a Sunday that was great. It was what I always would have wanted for a Sunday. This particular Sunday reminded me that one day you are great again, and it just sneaks up on you. But it also reminded me that I wanted to tell you, that where you are right now is OK. Even if it sucks.
So many Sunday's sucked for me, even when I tried to make them great. Probably especially when I tried to make them great. The best ones, in the end, were the ones that just happened, without much aplomb or pre-planning. Like today.
I've had a cool weekend actually.
Friday night wine and unwind with one of my favourites and her family.
A love celebration on Saturday morning with some newly married friends who were the epitome of dreamy love-birds. They made my heart warm and their story is one that perhaps 2 years ago would not have been possible to see unfolding to the post-wedding Saturday brunch in a sunny little town in WA.
I played water polo on Saturday afternoon for the first time in 24 years and although it was hard and challenging to not be fit enough or strong enough, I did it, and then I felt like an athlete (once I got my breath back and could lift my arms again).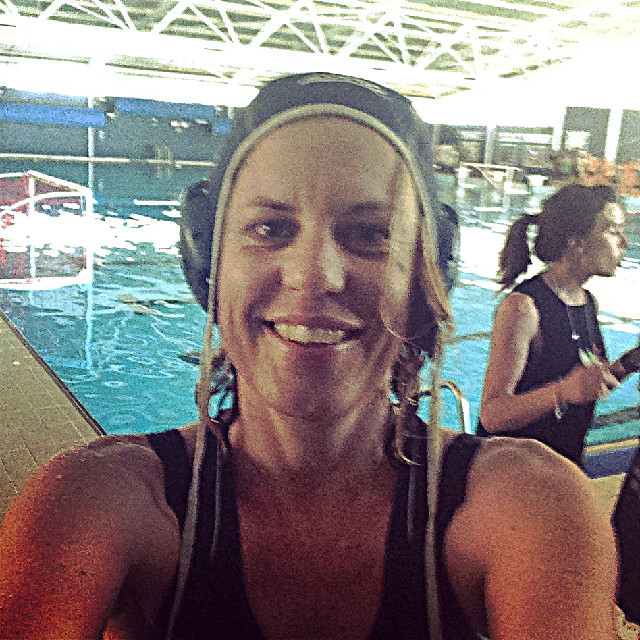 Today we went to the beach at 8.30am and (in the weekend theme of "first time is ages") I wore a bikini. I am not the kind of woman who should have body issues, but funnily enough isn't it often the woman who shouldn't who do? I can totally wear a bikini, but since my first baby when the bottom of my belly stretched into a thousand wiggly white lines in the last week of my pregnancy, I have not admired my belly at all. It's a pretty great belly, and has done a pretty sic job of growing babies, but I haven't put it out in bikini's for a while.
My girls were so impressed, and not at all for the reason's I thought. Miss 11 loved my new bikini (it is pretty lovely). Miss 6 was impressed with the idea of wearing something that looked like a bra (and therefore a booby show) on the outside and proceeded to get her 18 year old biggest sisters' chicken fillet bra out of the bathroom and ask if she could wear that to the beach (I said no!). Miss 4 said "Oh yay Mum are you coming in the water with us? Is that why you have your bathers on??". I did get sun-burnt in a couple of places that haven't seen the sun in a while, but I can do bikini's. One day I'll even share a photo.
More friends, more sunshine, my first swim in the ocean this side of winter, family lunch (which included the ever popular quinoa and kale), a window when the girls went to their Daddy and then dinner and bed.
And did I think of him today? Yes I did, at breakfast when I cooked eggs (he used to cook Sunday breakfast often) and when I wished I still had the beach car to take all the beach stuff to the beach. Did I miss him? Not really. I did miss the 3 brown-haired girls when we were at the beach, because they love the beach and bogey-boards and it was the best day for that. Did the day drag at all? No once. Did I feel lonely? Not for a second. Even now, when the house is full of sleepy children, and it's just me. And that is the thing I thought I wouldn't be able to take. To find peace with just me. And that made me remember when I thought I wouldn't. And when it hurt to breathe. And when I wasn't sure I could keep going. And I wanted to tell you, that if you're reading this and one Sunday (or Friday or Tuesday) you're stuck and unsure if you can, YOU CAN. You really can.
My life is incredibly blessed, and I am honest and true when I say that I could only see that from this side of all that.
Today one of our old chooks died. She's been powering on, in survival mode, for a few weeks and I couldn't bear her suffering. I'm not brave enough to move creatures on, but my Dad (the farmer) is. It was her time to let go of this, of what she was holding on to and go there. I don't know what it is for old chooks but only she can see that once she's there, on the other side from all of this. And I bet it's good. Like Sunday.