Almost two Valentine's ago now I brought my love a trip for the two of us to fly the Islands off the coast of our town.
They are, and have been, mostly fishing islands, with camps for the cray-fishermen, and steeped into the history of this town as the site of many shipwrecks in days gone by. There are many greater local historians' than me, who have written and photographed and told the tales of those islands, so this is not about that.
This is about the last tying off of things that need to be tied off and left alone. Or perhaps untied to drift off. It's almost a year since the great unravelling, but this Valentine's gift happened well before the end of all of that.
We were the kind of people who were into life experiences and adventures as gifts (well at least I thought we were). The Christmas before I brought him a Skydive and he brought us both a Skydive so we could go together, and so we had three tickets and I jumped with my biggest girl and he jumped after. It was one of the most exhilarating experiences of my life. Terrifying and then amazing. I've written about it before here. I waited on the beach for him, and the photograph of his smile afterwards seems forever burnt in my brain. Pure joy. I want that for people, sometimes more than they want it for themselves. I certainly wanted joy more than he did, or perhaps I just believed in it more? Anyway I digress…
I thought we were into life experiences and adventures as gifts, so for the following Valentine's Day I arranged a trip for us to go via air charter to the Islands, we just had to book the date. It was probably the second (or third or even fourth time) one of my gifts to him was not received in the way I expected. The first Christmas I brought him a cardboard sheep bookshelf. He was flabbergasted. I was so amused and made him build it (it all slotted together like a puzzle and was totally eco and made from recycled brown cardboard) and then insisted we take it with us everywhere on Christmas day. In the car, to the beach, watching us eating Christmas lunch with it's Christmas bauble earrings on. Come on!!! That's so funny! But I could kind of get why the sheep wasn't like his favourite present. It was an awkward shape and didn't fit well with his black and chrome furniture (neither did my toddler and I to be honest), and sheep farmers don't generally like sheep ornaments. But a trip the Islands???
I think he felt bad because he hadn't gotten me anything and my lavish gift of love and adoration (yes, I did absolutely love and adore him) was a bit OTT. So he put the voucher in the drawer and NEVER SPOKE OF IT AGAIN. By the next Valentine's Day I was well and truly dumped and got the best love letter ever from my biggest daughter. I certainly didn't think about the trip or the expiration date of the voucher. Well, I may have and probably cursed and swore and cried some more, but that time is a little vague in my memory now. Survival mode grief has few stand-out moments for me, just a blur of aching heart and leaky eyes about all kinds of things, sometimes and often random and seemingly unrelated to the heartbreak. I cried over a spatula remember?
But in August this year I remembered it, and it was one of my beautiful friend's birthdays and she is steeped in Islands history too (the daughter of a cray-fisherman who spent much of her childhood growing up over there) and so I asked her to be my Valentine. Total kudos to Wendy from Geraldton Air Charter who firstly listened to my whole sad Valentine story (the curse of an oversharer!) and then honoured the tickets.
So here we are. At the Islands. This is how beautiful it is.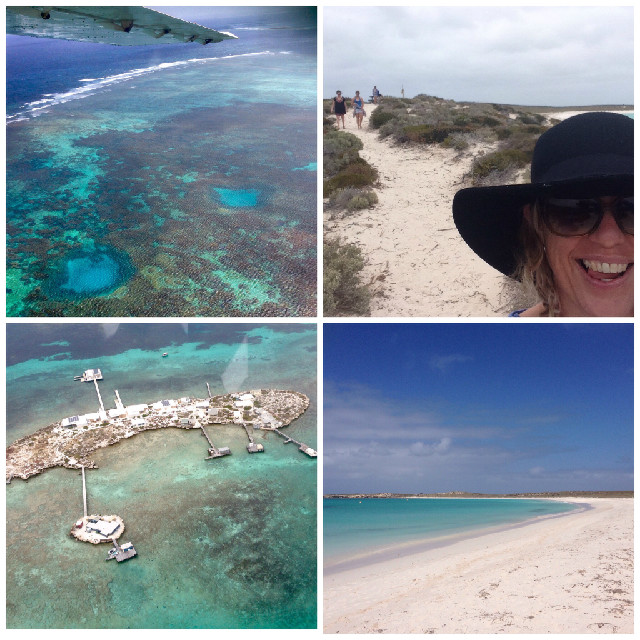 And we went with two other lovelies, all of them people who have come into my world this year and neither of whom had ever seen the islands before. And it was the best belated Valentine's ever, and it's always better to go on adventures with people who are not the type to put them in drawers. And so there's another piece of it all I can let go. Tie off. Leave someplace else but not in my heart.
And a photograph (or 4!) of me in bikini's with my belly out, ready to go snorkelling (oh the coral, the vivid purple coral). Like I promised (myself) I would do this year, for the entire world to see.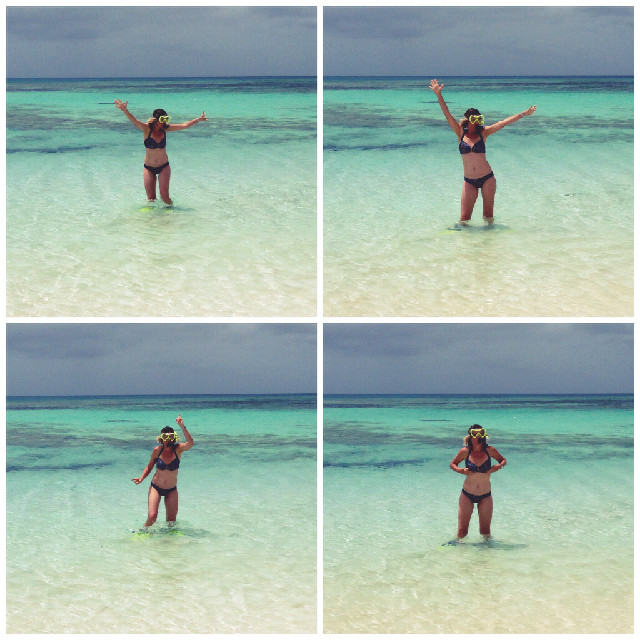 It's Christmas Eve. I almost wrote a post called Bitter and Twisted on Christmas Eve because I dropped my 3 youngest off for Christmas Eve with their Dad & family and in the space of the quiet created by their absence remembered last Christmas Eve the four of us – me, my biggest girl, him and HER (!) – all went out for drinks. I posted a picture of the 3 of them on Instagram, and had NO IDEA what was waiting around the corner. The great casting off. Oh 2014, what a year you have been.
But then I forgot to get bitter and twisted because I hung Christmas stockings and prepared the gifts for my children (this year a FAMILY HOLIDAY TO BALI and TICKET TO ED SHEERAN) because we are the kind of people who are into life experiences and adventures.
Happy Christmas all, celebrate with whole-heartedness, from the whole of my heart x