I'm totally ready to go to bed. It's been a massive weekend of the usual stuff – yoga and gymnastics, plays at the park, bike rides, food, movies, markets, family, friends, butt painting (because that what you do when you're 3 and 6 and the weather is warm and there's paint outside).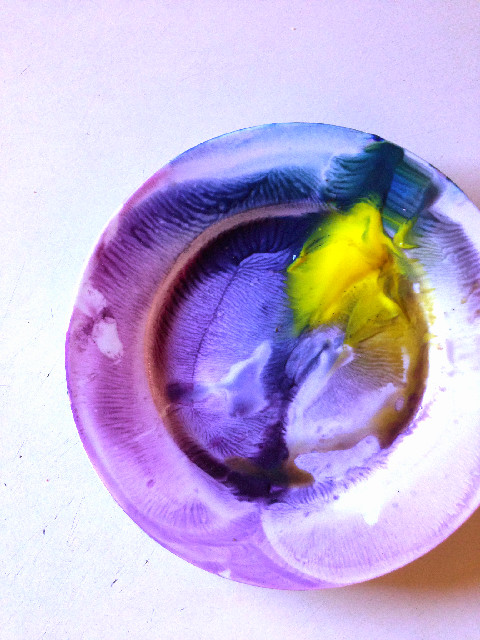 But now there's thunder and lightning and the "puppy" (who at 6 months old is bigger than the fully grown dog) is having a freak out in the driveway. I think she is jumping up to get the lightning and barking (like a lunatic) at the thunder.
Old girl dog is tied up because she also freaks out at storms, but she just silently starts running, and gets put in the pound or picked up by kind-hearted strangers who find her running desperately, miles from home. I'm not sure where she is running to or if she is just running away – but in either case she never quite makes it. And she, so far, has always made it home.
Anyway the "puppy" has a loud bark. Like really loud. As loud as all those other annoying dogs up and down the street who are also barking at the storm. She doesn't have enough brain to stop barking, and she still shits too much for me for me to put her in the house. And so suddenly I'm not tired. I wonder how long it will take her to work out she can't bite the storm or bark it away?
Today was his birthday. I remembered, because I wouldn't forget stuff like that. Probably ever. I felt a bit sad this morning, and just had to acknowledge that there is always stuff you won't forget, no matter how completely someone or something is gone from your life. I remember how at the start of it time crawled, and on some days at 10am I would be wishing the day to end already. And then suddenly it's August and six months have literally just completely gone, and time is not crawling anymore. Just like the old girl dog, for a lot of that time felt like I was silently running. And I thought I was trying to run towards what I wanted, but I was just desperately trying to run away from the time-crawling grief. The good news is it's gone. And I made it home.
A different kind of woman (or a younger woman?) may have barked, loudly, at the thunder and tried to catch the lightning in her open jaws. Running in circles in the same spot in the driveway, driving everyone around her completely nuts. I wanted to sometimes. Yell "fuck you" at the dark sky and find enough reasons why this was not my doing. I'm glad I'm a lot more like the old girl dog, who barked a few times, and then let me calm her, tie her up and put her bed where she's safe.
I have yelled at the puppy to "shut the eff up" a couple of times. She just came in from the driveway and got into bed with the old girl dog. It's gone briefly quiet. I guess they are looking after each other. Even as the storm carries on.