It's still changing. So much so that every time I think I have my schedule sorted, it changes again.
I'm sure it's going to just stop changing any minute now and be calm and sorted, but then if it did that it possibly wouldn't be my life?
Someone (who has been my friend for a really long time) commented something that included me, relationships and the word "chaotic" in the same sentence and I was all like "WHAT?????". But she probably had a point. Either my life is very interesting (it feels a lot like Home and Away when I try to describe the latest change in a succinct sentence (which is impossible because I rarely do succinct)) or I tell a good story about it to make it more interesting. Na, you seriously couldn't make this shit up. And the guys that have so far featured in my soap opera are not as hot as those guys in H&A (NOT that I watch it, but my Dad sends us the out-of-date TV Week every week so the kids can look at the pictures and I have seen those guys on the front cover, and could quite imagine I could really feck things up if one of those guys tried to mess with my Gap Year right about now!).
So, here we go.
Last weekend I was the party girl. Not even the one from the nineties. More like the one from the 80's.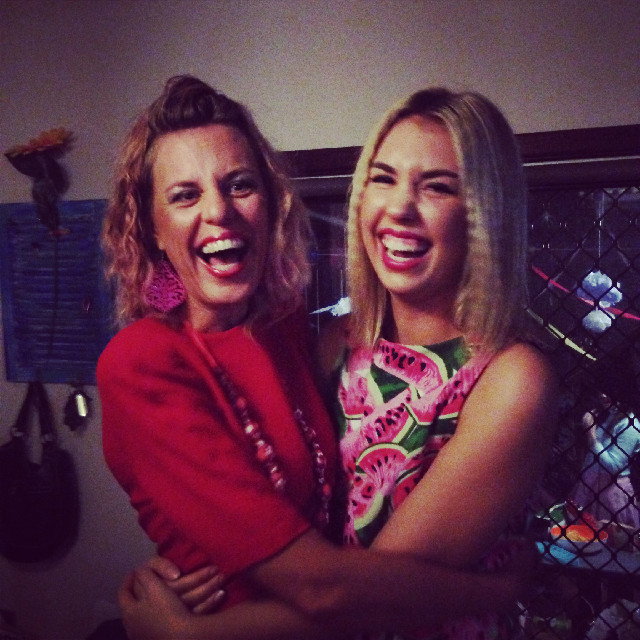 For my daughter's 18th I looked a lot like an 80's/early 90's air hostess and the next night was a 40th/Wedding celebration party and the music was the same as all our school balls from the same era. Which was fun. I felt really fun at the 18th and like I could pass as a pretty cool Mum, and at the 40th I felt really…..umm (honestly) single. Not sure I'm loving that just yet. I remember how hard it was to take off my wedding ring about 4 years ago, and not just because it is the most delightful and expensive piece of jewelry I own. It's like (long pause) not being married anymore. Which I wasn't. And although I was even further from being married again in my last relationship than I wanted to think, I felt much more comfortable being part of a couple than not. But also, I'm not up for embracing my single status just yet. Probably because of the bit where it's because nobody wants me. That's a really stupid, lame bit to have and it only comes out on rare occasions where I'm single in sea of married/coupled people. Mostly everyone I know. I'm figuring the universe probably wants me to give dating a go, and I'm not altogether keen on that, but I do have the safety of the Gap Year (the cooler name for the sabbatical) for now. I'm such a serial monogamist that the notion of dating is not on my high list of comfort zone activities. So I'm not going to talk about that anymore!
The thing that was great about the weekend of parties was that I was a kid-free, single, grown up. And there are things about being that that are cool: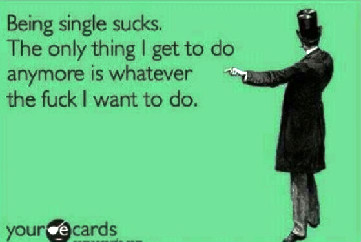 Things like – I went on a road trip with someone else who had a license (my biggest girls' friend) and shared the driving, and the music selection, and I got to go in the back while they talked girl stuff in the front (mostly about boys of course), and I got to stay with my friend who was kid and husband free for the night, and the 40th turned out to be celebration of our friend's wedding as well, and we got a lift home, got to sleep in, got to go out for (the most amazing vegan plus chorizo) breakfast and I got share the driving home. When we got home we got take-out food and my biggest girl went to sleep over somewhere else (and it was sweet she asked if that was OK, even though she's technically an adult now) and it was the first night I got to contemplate how it feels to live on my own. And (GASP) it was OK. Actually quite nice, and doable and although I was totally partied out (or perhaps because I was totally partied out) I slept so well, all on my own. But the truth of my life is that I am not a kid free grown up (although I am most definitely single), and although it was all lots of fun, I'm sure that's not real life either.
And my biggest girl moved out two days ago. To the studio in the backyard. And pretty much on the same day the little 3 moved home for good. For now. And there is a whole nother story about that.
I hope I can write it soon because I'm finding that finding time to write is tricky, and now I'm not sure where I'll find it. But that's just another change, in the ever-changing ebb and flow.
If it stopped changing would it still be my life?